V.I.Women's National Cross-Country Team win Bronze at CAC Cross-Champs in Bermuda...
Click photo above for more...
All hail to Neville Hodge (right, giving tips to Dennis Mitchell, Olympic Gold Medalist and World Champion in Barcelona at the 1992 Olympic Games). Neville is one of the first men over 40 years of age ever to run under 11 seconds in the 100 meters. Neville has represented the Virgin Islands in high school; in college at Morgan State University where he achieved All-America status. He is the Head Coach at Morgan State where he also continues to recruit and trained many of the V.I.'s top sprinters. He has competed in the Olympic Games and is the V.I. Olympic Coach.
The St.Croix Educational Complex Track & Field Team celebrates its victory in the girls Sprint Medley. Amadeo I.D.Francis, IAAF Vice-President, shares the moment with fellow Virgin Islanders.
How to become a member of the Virgin Islands National Team
To become a member of a Virgin Islands National Track and Field Team is an honor and a privilege which lives forever. The steps required include: Register annually with the Federation. All athletes and coaches must register to become eligible for selection to a team provided the requirements for residency are met. Once this is achieved, the standards for qualification must be met. With exception of local and most regional competition, qualifying standards are set by the international governing bodies including: the International Amateur Athletic Federation and the International Olympic Committee. These standards will be listed on this web site as they are established.
For annual Federation Form click here
Leeward Islands Track & Field Championships Series on Tap for 2001
V.I. Athletes on Two National Championship Teams at Two Schools...Congratulations to Laverne Jones and Rodney Pitts, National Junior College Indoor Champs Moberly Jr. College in Kansas.
Billy Bohlke, NCAA Division I Indoor Champs at Louisiana State University.
College Athletes Get Ready for V.I.National Team
V.I. Invited to The Antigua and Barbuda
2001 National Championship Series
CARIFTA 2001 Results Click Here
2001 Competition Schedule
Local/Regional
January 13 Development Meet--St.Croix
January 20 Martin Luther King Relays--St.Thomas
February 17 Black History Month Meet--St.Thomas
March 10 3rd March Madness Meet--St.Croix
March 24 CARIFTA Selection Meet--St.Croix
April 7 Easter Bunny Hop Meet--St.Croix
April 13-17 CARIFTA Championships--Bridgetown, Barbados
May 5-6 Leeward Islands Junior Championships--Tortola, WI
May 12 Leeward Islands Youth Championships--Nevis, WI
June 23-24 WHITSUN/OECS Games 2001--Grenada, WI
June 30-July 1 Leeward Islands Senior Championships--Antigua, WI Canceled
July 6-8 CAC Age-Group Championships--Freeport, Grand Bahama
July 20-22 CAC Senior Championships--Guatemala City, GUA
The V.I.Express Track Club--V.I. Sprint Series--St.Croix, V.I. Click here for information
Antigua-Barbuda National Championship Series--Antigua, WI Click here for more information
INTERNATIONAL
March 9-11 IAAF World Indoor Championships, Lisbon, Portugal
March 24-25 IAAF World Cross-Courntry Championships
October 19-21 Pan American Junior (U-20) Championships--Sante Fe, ARG
November 17-18 CAC Cross-Country Championships--Hamilton, Bermuda
St.Croix Marathon Makes History
01/01/01 St.Croix, Virgin Islands--For results of St.Croix International Marathon--First Marathon of the Millennium, click here.
Distance Racing--Road Racing--Cross-Country in the Virgin Islands is organized by: The Virgin Islands Pace Runners in St.Croix and by: STAR, (The St.Thomas Association of Road Runners in St.Thomas, click here to visit
---
The International Amateur Athletic Federation
The North America, Central America & Caribbean Athletic Confederation
The Central America & Caribbean Athletic Confederation
The Leeward Islands Athletic Association

The International Olympic Committee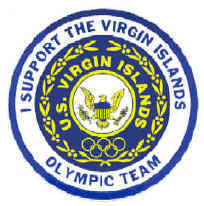 The Virgin Islands Olympic Committee
The Virgin Islands Track and Field Federation
408 Strand St., Frederiksted,
St.Croix, Virgin Island 00840
340-772-0412 President: Ronald Russell
340-772-0212 Fax.Pres.
roneruss@viaccess.net
340-777-0212 Secretary: Wallace Williams
340-773-5327 Fax.Sec.
wallacewilliams@msn.com