Billy Bohlke defends his title...

Heidi Snow gets her first marathon win...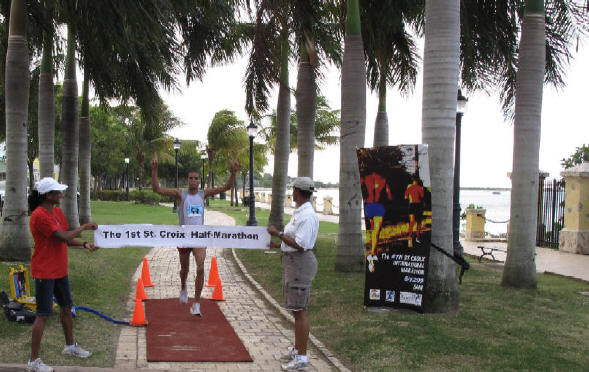 CARIFTA Medalist Juan Robles takes St. Croix Half-Marathon...

Ruth-Ann David wins Half-Marathon...

Full Results click here...
…runners local and from abroad meet the challenge in 8th St. Croix International Marathon…1st St.Croix Half-Marathon…
12-6-09 St. Croix, Virgin Islands--With a moonlit sky in the wee hours of the morning, a group of truly dedicated long distance runners took to the roads in historic Frederiksted to prove that they once again, would take on the classic road race, The 8th St. Croix International Marathon. Although fast and beautiful, this course punishes like they all do.
To run the half or the full, this decision was one considered bay some of the Sunday's runners. Billy Bohlke, defending champion for the race and V.I. National Marathon Champion, selected for the V.I. National Team to compete in the AMERICAS Half-Marathon Championships which did not take place, decided to run the marathon. Bohlke, a middle distance runner at LSU, eased through more than three quarters of the 26.2 mile course un contested with most of his mile splits under 6 minutes per mile. This would take him to the dreaded wall at somewhere around 17 miles, none the less he was the first place finisher with a time 2 hours 55 minutes 28 seconds. Leading a strong group of 50 year-old plus male runners, Calvin Dallas, two-time Olympic Marathon runner and winner of the St. Croix Marathon twice, finished second in the race with a time of 3:18:19. Bob Halk had a strong race and took third place overall in 3:44.27.
Heidi Snow enjoyed her first marathon victory as she worked her way through the two groups of runners racing on the same course to finish first for women in a time of 4:14.55; Elizabeth Nurnberger also crossed the finished line tired but with a smile on her face as she took second in 4:31.50; Annmaries Hayes of Wakefield, Mass. was energetic as she cross the line to finish third in 4:43.32.
Robles and David take the honors in the St.Croix Half-Marathon…
Juan Robles a CARIFTA medalist and now a student athlete at Turabo University in Puerto Rico hustled to St. Croix after running a strong cross-country race on Friday to take a shot at the half-marathon, the longest distance he has raced to date. He faired well as he led the half-marathon all the way to finish first in 1:17.49 while stringing together sub six minute miles. Troy Holloway was pleased with his second place finish with a time of 1:44.13; a surprised Bill Heard who has been running off and on in V.I.Pace races over the years took third place among the men with a time of 2:03.21.
Ruth Ann-David, V.I. National Marathon Champion, took first place in the St. Croix Half-Marathon with a time of 1:37.11; Theresa Harper, recovering from a successful Philadelphia Marathon and former winner of the St. Croix Marathon, finished second in 1:42.04 (David and Harper were second and third overall); Dulcie Crowther continues to improve as she finished third in 1:58.23.
...many thanks to V.I.Police Dept., St. Croix Rescue, St. Croix Track Club, V.I. Cycling Federation, local sponsors, volunteers...
For full results click here...
---
Results St.Croix International Marathon 01-01-09
To finish in the top ten of any marathon can be considered an accomplishment even when the field of runners in the race only number ten. Each of the finishers were winners in the New Year's Day St.Croix race where the start temperature on at least one thermometer was as low as 62 degrees!
Billy Bohkle was more than happy with his performance in the race with a 5am start as he finished first overall in the St.Croix International Marathon. From early in the race the dominance of the pilot, runner and former miler at LSU would show as he ran close to even splits per mile on the course which would eventually take him through the 26.2 miles in 2 hours 44 minutes and 53 seconds. Ted Archer of San Jose, California appreciated the destination for the race and the fact that it is advertised as the first marathon of the year. And while on his honeymoon he finished second with a time of 3:07.53. At the pre-race talk Archer spoke of finishing the Marathon DeSables which is hard to imagine let alone run. It's a 151 race which takes place over stages of 6 days of running in the Sahara Desert. Matt Halk, also a veteran ultra-marathon runner actually recorded a finish for his first marathon, as he battled for third place with Richard Jeanpierre whom he passed at the 18 mile mark with a time of 3:50.07 Jeanpierre was also the top male finisher over the age of 50 and fourth in the race in 3:54.06. Scott Fricks of St.Croix had a strong performance after finishing the New York City Marathon in November to take fourth with a time of 3:56.23 and Rick Fitts of Sulphur, Louisana was fifth in 4:25.54.
Ruth Ann David of St. Thomas and a V.I. National Team runner, had almost given up on competing and defending her title as she had difficulty with her commercial flight to St.Croix on New Year's eve. At the last minute fellow National Team Member Billy Bohlke (both have represented the V.I. in regional cross-country championships as well as the IAAF World Cross-Country Championships) turned his car around, went back to the airport and flew over to St.Thomas to save the day. David, who succumbed to dehydration two years ago in the race, which was her first marathon and had to be taken to the emergency room for assistance, was strong in the race as she held on to win for women in a personal best of 3:24.44 and also for third place overall. In a race for second place Marie-Claude Belanger of Quebec, Canada took the honors with a time of 4:06.20 and Amanda Wareheim, of St.Croix a training partner of Scott Fricks, finished her second marathon after doing New York also with a time of 4:19.55. Susan Daley of Chicago, who loves the St.Croix race, finished the race for the fourth time in 7:12.14.
The race was run in memory of Ted Corbitt a an Olympic marathon runner, pioneer in marathon running, ultra running and founder of a number of organizations associated with the development of running as it is known today in the USA.
For information on the organization, support, about the contributions of Ted Corbitt, and more race information logon to http://virginislandspace.org.
The next race on the V.I.Pace calendar is: The Children Race Friday January 1, and The 3kings Mile on Saturday January 2. Both races are at the start of the parades at 10am. Logon to http://virginislandspace.org
The Finishers Male:
1.Billy Bohlke 2:44.53; 2.Ted Archer 3:07.53; 3.Matt Halk 3:50.07; 4.Richard Jeanpierre 3:54.06; 5. Scott Fricks 3:56.23
The Finishers Female
1.Ruth Ann David 3:25.44; 2.Marie Belanger 4:06.20; 3.Amanda Wareheime 4:19.55; 4.Susan Daley 7:12.14
---
Results...St.Croix International Marathon 01-01-08




Photos LtoR Start St.Croix International Marathon; 1st place finisher Jose Rodriquez; 1st place finisher Ruth Ann David; 2nd place finisher Matt Perry; 2nd place finisher Theresa Harper; 3rd place finisher Earnest Mitchell...






4th place finisher Wayne Nichols; 5th place Richard Jeanpierre; 6th Lloyd Henry; 7th Arcadi Alibes; 8th Scott Fredricks; 9th John Wallace; Charles Martin...


10th William Govi; 3rd female, Susan Daley; 11th Davheed Nelson...
Small group of dedicated marathoners, local and international, do St.Croix marathon, first marathon in the world for the year…
1-1-08 St.Croix, Virgin Islands--Not only does St. Croix offer the first sun rise of the year under the U.S. flag, it also brings light for runners of the year's first marathon in the world, the 6th St.Croix International Marathon.
Twenty-two local and international runners registered for the race, sixteen started and fifteen completed it. They were led by Jose Rodriquez of Puerto Rico and Ruth Ann David of St.Thomas. Rodriquez, the third place finisher in 2006, took the lead at the ¾ mile mark and cruised to victory with a time of 2 hour 55 minutes and 39 seconds. Out of the group including Matt Perry of London, England, Richard Jeanpierre, St.Croix, Lloyd Henry and Ernest Mitchell no strangers to the Virgin Islands, Perry took second place overall with time of 3:17.21; Earnest Mitchell improved on previous two year performances, finished third in 3:22.22; Wayne Nichols was fourth in 3:34.43; Richard Jeanpierre was fifth in 3:38.33; Lloyd Henry was sixth in 3:41.55; Arcadi Alibes of Barcelona, Spain was seventh in 3:56.49; Scott Fricks of St.Croix was eighth in 4:05.42; John Wallace of Longboat Key, Florida was ninth in 4:11.46; William Govi was tenth in 5:40.52; Davheed Nelson was eleventh in 7:16.26; Charles Martin (no official time).
Ruth Ann David, who always goes to the lead at the start of the race, regardless of who's in the race, was there for most of the first mile before being passed by Rodriquez who settled into a six minute per mile pace for up to approximately ten miles at which point his lead was well ahead of David who was still in second place overall after the nine mile mark. Unlike last year when David faltered in the final miles of the race and was taken to the hospital for treatment for dehydration, she came back again and held on to take first place overall for women in 3:25.44. Theresa Harper, the four-time winner of the race and recovering from major injuries over the past months, finished well in second place with a time of 3:47.13; Susan Daley of Chicago, missed the race last year due to a detour around an accident in route to the Plaza Extra (west) start, finished third in 6:59.09.
The top runners shared $2,600.00 in prize money. The two top women Ruth Ann David and Theresa Harper, ran times that qualified them for the Boston Marathon. Earnest Mitchell, Wayne Nichols also qualified for Boston. St. Croix was John Wallace's 296th marathon run in 88th country. William Govi of Italy made St.Croix his 676th marathon and Davheed Nelson, the founder of the "Last Poets" completed his first.
The next race on the V.I.Pace Runners calendar is The Annual Children Race on January 4 at 10am at the start of the Children's Parade in Fredriksted, followed by the Annual 3Kings Mile on January 5 at 10am at the start of the Adult's Parade in Frederiksted.
For information logon to: http://virginislandspace.org or email wallacewilliams@msn.com
---
Ballantyne, Bohlke and Harper make history in St. Croix International Marathon…
January 1, 2007 St,Croix, Virgin Islands--The St. Croix International Marathon is the first marathon to be run in the "New Millennium—2001; it is the first marathon in the world to be run in the new year.
Three very good marathon runners, Pamenos Ballantyne of St. Vincent and The Grenadines and the top marathon runner in the Caribbean; Billy Bohlke the top marathon runner in the Virgin Islands and Jose Rodriquez from Puerto Rico, the winner of the 2006 Virgin Islands Half-Marathon—Race Against Drugs in St. Croix on Thanksgiving weekend, ran stride-for-stride for the first sixteen miles of the 5th St. Croix International Marathon (Millennium Marathon). The bright moon, overcast skies and flat course, made the conditions as ideal as possible for marathon running in a sub-tropical environment. The competition between the lead runners as they demonstrated the basic beauty of marathon running mechanics, was as good as it gets. Ballantyne, a sub 2:20 marathoner, used the race as a final tune-up for the Trinidad Marathon to be run later in the month where he has won seven times and is the defending champion. At the 18 mile point, as the race turned around at Fort Frederik for a second trip to Hamms Bluff and back, Ballantyne broke away from Bohlke to win in 2 hours 40 minutes, 28 seconds and the fastest marathon ever run in the Virgin Islands. Bohlke, who hasn't had the opportunity train much since the marathon at the CAC Games in Cartagena, Colombia, which was run under extreme conditions and returning home a week ago after serving the past five months as a pilot in the U.S. Air Force in Afghanistan, looked very good and finished second in 2:50.25, the fastest marathon ever run by a V.I. runner on a V.I. course. Jose Rodriquez finished third in 2:55.20 after taking third in the Guadeloupe Marathon in Puerto Rico less than a month ago in 2:37; Ernest Mitchell, a V.I. National Team Masters runner, was fourth in 3:22.50; Richard Jeanpierre of HOVENSA masters runner was fifth in 4:00.15 and Lloyd Henry of the Virgin Islands was sixth in 4:15.35 and Charles Martin of the Virgin Islands was seventh in 4:56.15.
Theresa Harper eased into the running early in the race on one of the most beautiful courses in the world as she chased Ruth Ann David who was running her first marathon and who actually lead the race as she crossed the mile mark in 5 minutes 33 seconds. That pace would jeopardize her race by forcing her to the emergency room for recovery. Harper won the race for the third year in a row with a record 3:40.21, the fastest marathon ever run by a female on a V.I. course.
The race was sponsored by the West Indies Corp., (Gatorade and Aquafina); Plaza Extra, Attorney Joel Holt with support from Bohlke International Airways, HH Tire, Oliver Exterminating, Carib Dynamics. It was sanctioned by the Virgin Islands Track and Field Federation and affiliated with the Association of International Marathons (AIMS). The 5th St. Croix International Marathon is dedicated to Larry Williams, race supporter.
---